The best blog from Christian L! The #1 JL Mann and CofC College Of Charleston blog on the web! WITH OVER 4,000 HITS A YEAR!!!!
Hello every1,

As I said just a few hours ago I was going to make a blog about DYC and Spring Break. Well here it is. I hope that every1 is excited about me going to Charleston last year. It's been a very exhilarating time for me in finding the college that was right for me and Charleston was the one.
First I would like to congratulate the Mann website for featuring students the past month and, also, to Mr. Keen for winning Teacher Of The Month for March and to Miss Sullivan-Smith for April. As for Keen, it was about time that a real and caring teacher won this award.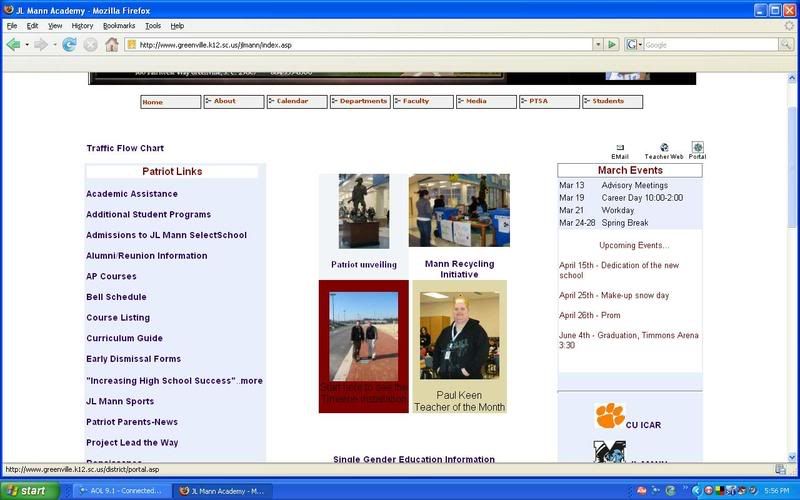 I was jumping up and down with so much joy and happiness when I heard the announcements in third period Latin Four Honors. For the past months it seemed that the "Teacher Of The Month" award was joke, but when Keen won it felt like the seriousness started to settle it. I mean it's not life and death if you don't get the award, it just showcases the best of the best teachers at Mann and Keen by far is the best. He listens to students and is definitely someone students can talk to about anything and everything Mann. He is definitely "Teacher Mann Of The Year!!!!"

As for the school website:
Well, Can you believe it? I would like to thank the School Website for finally featuring students on the front page! It was the right thing to do and the right time. I can honestly say they are now competitive with the other schools in this district. I am sending my kudos to the Media Center of
JL
Mann for furthering this effort by giving students an opportunity to be featured on the Mann website. If you bought a book last week at the school's book fair you can write a book report about it, get your picture taken, and have both your picture and book report featured on the school
website's
front page. Now how awesome is that?! :) This book report will be rewarded with a gift certificate to the local Spill The Beans. I encourage our student body to further the effort by participating in this awesome opportunity to have more Mann students on the front page. And along with that, don't forget about featuring our "Students Of The Month" too.

And as a side note I did read City People a while back.
HMMM
. Should I dare to mention it?
Does this look familiar?

I hope so. I think that
Greenvillians
have been fooled by City People' Teacher Of The Week section. I mean "wow." This "Drama Coach" made "City People's Teacher Of The Week" two times in two years and no one stopped and thought, "Hey, haven't I seen this douche before?" Well, maybe not. HELLO!!!!! Come On Mann could we not find a teacher, Keen, or a student, Knox White as Johnny Quest, to be featured. We had to go and use old material to be "new" news. Are you kidding me? This is absolutely ridiculous on the part of our Mann liaison to not have had checked this before sending the Okay. I mean Knox White would have been a good choice over a second "very brand spanking new" article on Coach White. Come on he's not really "THAT GREAT!" Ha Ha! To get a lead role is a bigger deal than directing it. Agree? I would have rather read a "new" article about Knox White and how he felt about playing Johnny Quest than read an article titled "A Director's View Of
JL
Mann Plays." I think the Drama department is great, but they do not deserve THAT much attention. (PS- Same goes for the Athletic Department.) But in the future please put "New Mann News" out there instead "Newer Old Mann News" in the local papers. We would not look like fools and we would definitely up our media presentation among other schools.
--------------------------------------------------------------------------------------------------------------------------------------
And now I want to talk about
DYC
from March. It was a blast! Here is my second photo fun story.
This time we were "Lost In Christ"
Andy and I and Every1 else had tons of fun!
Wannabe Stephen rocked the show as usual! Best Catholic band in SC!
WOOT
!
The Macho Man skit was hilarious!
And so was the
Riverdance
!
At times we had to remind Heather, one of the Adult leaders, what was going on.
AND THE FOOD WAS
AWESOMMMMEEE
!!! SERIOUSLY!!!
They even had an Ice Cream cup tower this year at
DYC
!
And I thought it was awesome too!
The most exciting part of the first night was Tommy defeating Chris in "Are You Smarter Than Your Youth Minister?"
Yes I am! :)
After the retreat Moses saw a really
HAWT
girl at Wendy's.
He wanted to get her number, but no such luck.
And as usual Franny discussed the anatomy of her huge hair.
Andy
AND
Moses
Had a "face off" at the end. Both were tied.
Chris then had to prep Franny for her "
DYC
Photoshoot
."
And all Heather wanted to do was take a spin in Brent's Sports Car.
And that is all for my
DYC
Story!
---------------------------------------------------------------------------------------------------------------------------
And now let me tell you about my Spring Break this year. We went on the great big ship Norwegian Dawn and it was definitely a cruise to remember. We visited the Dominican Republic, both Virgin Island, US and British, and the Bahamas!
Marjy wanted some of that
Lovin
'.
"Uh Oh! What are they up to now?" Nothing.
Sandy started to tell scary stories to get them to stop.
The car ride to the ship was crazy.
During one of our pit stops Franny did a "James Bond" to the bathroom.
No Kidding!
This is Freedom Of The Seas, the biggest cruise ship in the world!
Up Close.
For dinner in Miami we went to Johnny Rockets and "Oh Yes, It Was Refreshing!"
This is Miami in a rainstorm from the cruise ship we were on.
This is "The Hammock Spot" in
Samana
, Dominican Republic. It was
HOOOOT
!
We chilled from the heat.
And so did I.
Here's your own "chill spot."
A view of the sailboats in the US Virgin Islands on our Snorkeling Excursion.
An On Deck Cruise Party!
Beach day in the British Virgin Islands!
Eagle Ice Sculpture at the Chocoholic Buffet!
A view of the Bahamas Beach!
The Hallway of the ship.
Our Messy Stateroom.
Hello and Goodbye from the Bahamas!
--------------------------------------------------------------------------------------------------------
Prom is in another week and that's about it. Sorry about the
looong
post everyone! Hope all is well.
Christian L.