The best blog from Christian L! The #1 JL Mann and CofC College Of Charleston blog on the web! WITH OVER 4,000 HITS A YEAR!!!!
Hello everyone. I hope you have been enjoying the new YouTube I posted a few hours ago. This last week in the old school has been one I will never forget. The cleaning of lockers, the franticness of the teachers to clean their classrooms and move them to the new school, the tears of students when saying their goodbyes, and the overwhelming picture snapping of parents and students. I will never forget it.
The new school open house was last Monday night. I am excited about the new school. It has its drawbacks, but so does everything else. Today The Greenville Journal did an article on our open house and even had a picture of Duncan's Vader for Christmas. It was quite an experience. I had a hard time finding my classes, but so did everyone else. They are much more spaced out in the new school than in the old school. It will be a hassle this first week back in January, but I think it will all work out. The new lockers, on the other hand, are a pain too. So much for new technology when it is difficult to get a grasp of. But I guess new things take time and so will our move from the old school to the new school.
I have enjoyed packing teachers boxes over the past week. Laughing at old memories and remembering things of old. I will never forget it. During the packing day on Saturday I did a brick in Doc Loch's class. Here are two pictures of my 'ghoulish' brick.
and Two.
I feel etched in stone at the old school, but it's time for me to move on. Im sad, but excited about the big move at the same time. It's that way from the other students and teachers at Mann that I have talked to as well.
The last day at Mann was truly 'in style' and a 'hassle' as well. The Greenville News did fair reporting, but here's the other side of the story.
I arrived at school in the morning and was surprised to see the school in total darkness. I didn't know what was going on and just thought at the moment that the lights were off and that teacher's wanted an early holiday. That was a so so observation. About ten minutes later after I had arrived I learned that the lights in the gym went out the night before after the girls game and before the boys game. One of my friends who is involved with athletics told me that when the lights went out, everyone freaked and exited the gym until they could get the lights back on.
Half an hour goes by and they cancel the game for good. I learned more as the day went on. About ten minutes before school was to start, we were told to head over to the new school to have a temporary place to stay. OOOO BOOOY. It was "fun!" Students were freaking out again and they had to call in more buses to transport students. No preparation in sight equaled chaos from the get go. I left in a hurry so I would get to the school on time. While on the way I felt bad for the car riders and bus riders who had no other way of getting there except by bus or from other students. I was already too much in a hurry to help anyone and I'm sorry for that.
Once I arrived I was hassled into the building. They took my food away because the new school rules allowed any food or drinks in the building. That was bummer number one. Then I was forced into the crowded and spacey new gym. It was glossied and full of people.
Here are some pictures to help with my story. Im sorry in advance for these pictures and if you are in them.
The glossy gym. WOOT!
The new scoreboard.
I was lucky enough to be one of the first people in the building. But then the flood of students came in.
Yes, just like animals it felt like. Unprepared, even when they knew about it the night before. But that's how it unfolded.
Food was taken away as well. Later on however, students snuck in cookies and cake and had parties with no punishment. I was delighted to eat those cookies after a full cramped hour in the gym.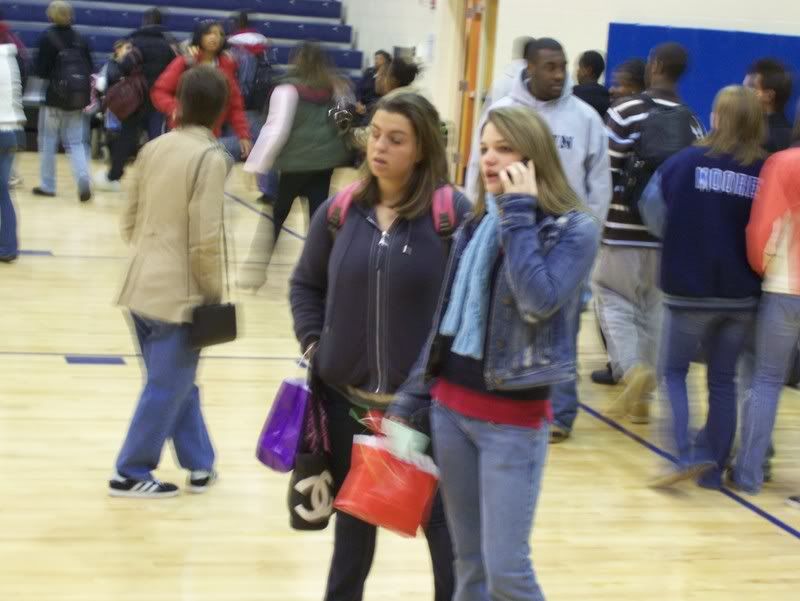 Studnets were really upset and just wanted to go home. BUT NOOOOO........
To make it better Coach White, 'THE' Drama King Teacher decided to turn the situation in the gym into a mini pep rally.
And NO it was not my last dance ever. We are in the works for another one soon in the new year.
The mini pep rally was a success though. Yes, I did perform, hence my last note.
Santa Sayz was hilarious!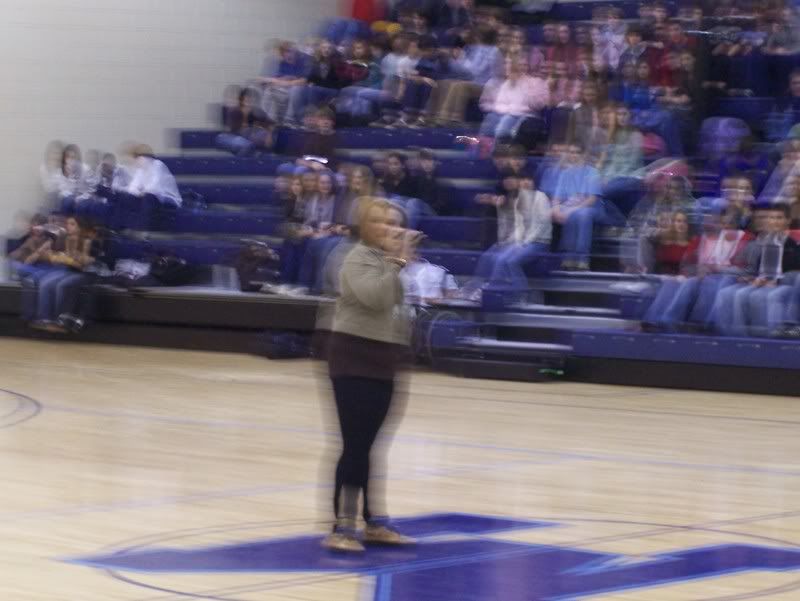 And Alicia Hunter proves she is still the Singing Womann at Mann doing No One By Alicia Keys Acapella!
After all this craziness was finished we were instructed to be at our First Period until further notice. I was, along with other students, bored out of my mind and trapped in the new school. There was no way to leave and even if we did students were forced back into the building.
But the cookies and cake in the classes made it all better. I talked with a few of my friends until time went by. Lunch time then rolled around. MORE CHAOS!!!!!
They decided the split the school into two lunch shifts. Mind you we have over 1,000 students. Now imagine cramping 500 of them into a small area and you see what I mean. It was crazy. The worst part about it was that students had to pay for their food. The problem with it was that some students kept electronic accounts and didn't have money with them. They couldn't trust the new system at the new school because it was quickly installed that morning. I had about had it with my last day "in style." I went to the office and had my dismissal sheet. I waited fifteen minutes and then left. I ended up at Burger King and the employees had heard what was going on. About fifteen minutes later two other Mann groups showed up and had conflicting stories about the Mann situation.
Since I had no other classes that day I went home, slept, and then went to work. It was a long day after that. But this pretty much sums up the last day at Mann. A Day Of Chaos.
But its time to move on and enjoy this Chrismas season upon us.
Goodbye Old Mann.
Hello New Mann.
Have a wonderful Christmas Break everyone.
Christian L.